Continuing to the first part, I will now tell about how I modified the look of my guitar. I considered doing swirl painting or buying a customized pickguard online, but none of those options got me excited.
The Pickguard
After some time thinking and incubating ideas I started the composition by picking trippy and psychedelic elements, being Alice in Wonderland a huge influence as well as the line "The rabbit is just a monkey in disguise" of the song Organ Grinder by Marilyn Manson.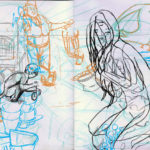 Unfortunately, visual arts are not part of my skill set. I contacted a friend artist (Daniel de Carvalho) with the ideas and soon he started to present me some sketches. Some months and some drawings later he started to work on the pickguard.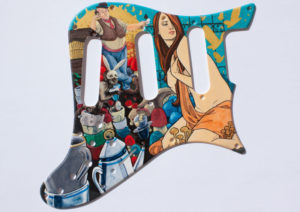 He developed the art using acrylic paint and India ink. Check out more photos of the process and other works on his page, Daniel is a very experienced, talented and passionate professional.
Pickup Selector
While assembling the guitar pickguard with Daniel, we come up with the idea of a mushroom pickup selector. I really liked the concept and resolve to try it out.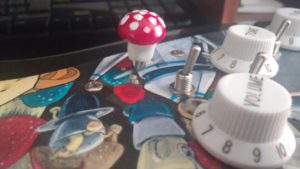 I used a recipe of cold porcelain. To my surprise it's a very cheap and easy to use material, I have some leftover and consider using it on other projects. I regret choosing nail polish for painting, it's too thin and inconvenient to use.